P&C Case Study: New Zealand Vehicle Valuations
When your business has been open for nearly 50 years, you will have lived through some changes. When your business is to do with selling motor vehicles, and the accurate valuation of vehicles, the one thing that can't change is… trust.
"Dad started Laurie Payne Motors in 1972 and I joined him on the yard in 1993," explains Mike Payne. "We were a great team, buying and selling used vehicles."
Over time, the demand for their niche sideline – vehicle valuations – grew, and in 2016 New Zealand Vehicle Valuations was born.
"We had been introduced to Phillippa and the Pinnacle&Co. team over a decade earlier," remembers Mike. "They were easy to work with, and they kept our car sales image fresh and professional. But our growth with NZVV has really let them shine."
Mike and business partner Blair Butler needed the new brand to continue communicating their established trust and allow for members of the public to submit their valuation queries online.
"Pinnacle&Co. are such good listeners. They heard our ideas and expanded on them. After the initial launch in 2016 we set out to refresh the brand in 2019, and we weren't disappointed," says Mike.
"New Zealand Vehicle Valuations is a good example of staying current with your branding," says Pinnacle&Co. director, Phillippa Jacobs. "Too often, companies take their eye off the image they are presenting clients and prospective clients. Suddenly, their brand looks dated and they are missing sales because of it."
That situation certainly won't arise for NZVV. The feedback Mike has received from clients about the new look website and branding has been very positive. But even more importantly, it has increased the amount of business they are doing.
"We have doubled the amount of online vehicle valuations we are doing since Pinnacle&Co. upgraded our website and design," says Mike. "I highly recommend any business have a chat with Phillippa about partnering with her team. They are our first port of call for all our brochures, vehicle branding and marketing conversations. You always get far more than what you pay for."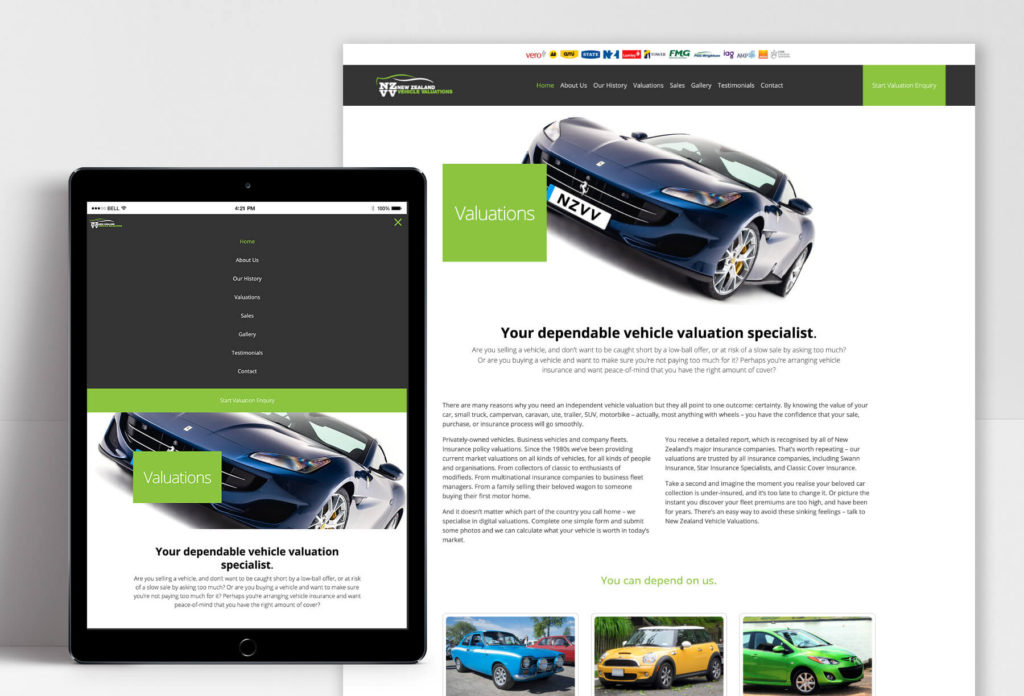 We have worked with NZVV for over 7 years now, and have just completed their second website. We have enjoyed working with Mike and Blair and agree….they have a passion for what they do and could talk about cars all day!